The one that seems to weigh you down? the one you can't seem to shake off? Well, it's been lifted.
After 4 semesters I decided that going back to school is NOT for me, at least not at this point in time. Exams start next week. There is a termpaper due on Wednesday (I though I had til next week to finish it) and then 6 exams over two weeks, 4 of which cover two semesters each.
I haven't been feeling all that great anyway, and after receiving some not so great news on Saturday, everything just got to be too much. So, yesterday I decided that school is not good for me right now. The constant worrying about not getting enough study time, about failing classes, about not getting done on time.... was making me feel worse than I wasn't feeling anyway, which culminated in me having an anxiety attack yesterday. Not something I want to feel again.
And once I actually said it out loud.... you know, I was feeling better already. Corny as it may sound, but yeah, I was feeling better. I am still going to sit for three of the exams. I attended the lectures all semester, so I would think at least something stuck in my brain and I should be able to at least pass them. After that, I am done. And that damn termpaper? Nope, I tossed what reasearch I had done.
Well, while making this decision feels good... now I have to figure out what I want to do when I grow up.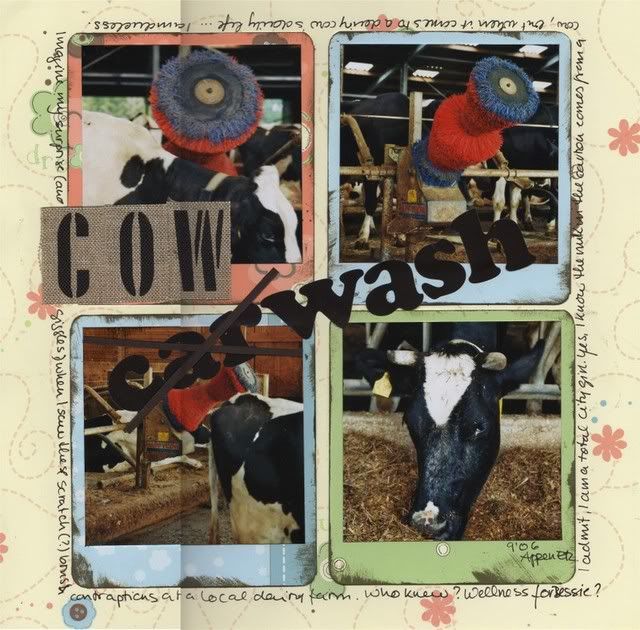 In the meantime, here's a layout I did a week or so ago. My scrapping friend Nat is going to be a guest DT member for Dream Street and I still had some Dream Street papers sitting around, so in her honor, this is what I came up with. PP all Dream Street, some American Crafts alpha stickers, Tim Holtz Walnut ink. The journaling is probably impossible to read, so here goes: I admit, I am a total city girl. Yes, I know the milk in the carton comes from a cow, but when it comes to a dairy cow's daily life... I am clueless. Imagine my surprise (and giggles) when I saw these scratch (?) brush contraptions at a local dairy farm. Who knew? Wellness for Bessie?