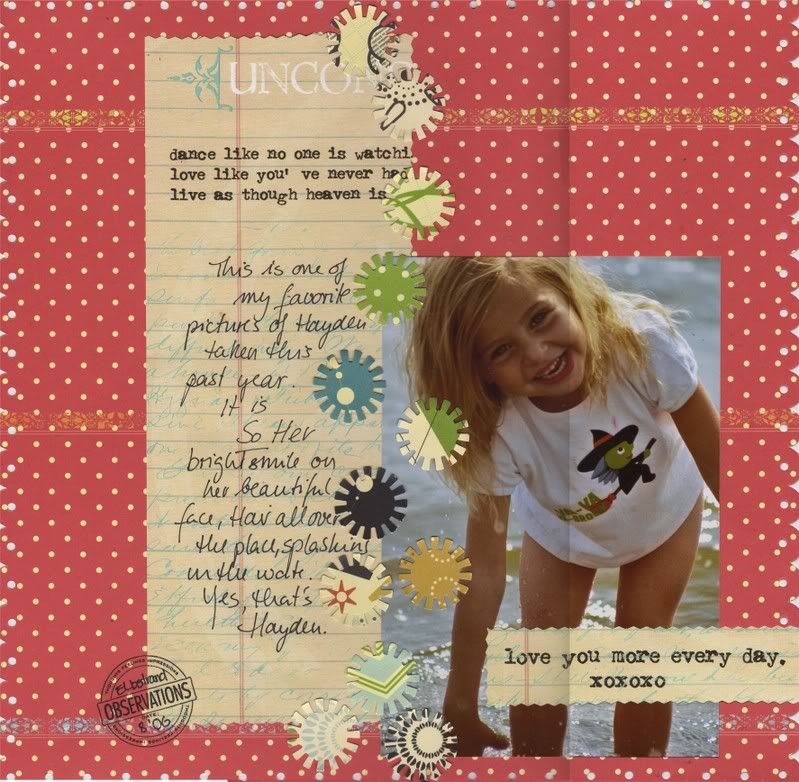 Yesterday was like Christmas all over. Actually, better than Christmas because my Christmas was kind of lean... I got all kinds of useful things, which is great, and I needed them, but fun things.... fun things are just that, FUN.
As I said, yesterday was like Christmas. My
Scrapologie
kit arrived. And was it ever fabulous! Ranjini knows how to choose paper, cardstock and embellishments like no other. Every month I keep saying "oh, this is my favorite kit" and then.... here comes another. And of course it is never enough to just get the kit. There are her amazing supplements. One more wonderful than the other. I don't know that I know of any other kit club where the members chomp at the bits every time the kit supplements go on sale, because inevitably, they sell out with lightning speed. I don't know how many times I stayed up WAY past my bedtime just to make sure my order went in on time. But... those sleepless nights are well worth it.
This is a LO with some of the papers from a recent kit (I think it was December). My favorite picture of Trouble#2 at the beach. PP Scenic Route and Creative Imagination. 7gypsies stamp, I even got out an old sun punch. The polka dot background PP has scallopped edges, but of course that got cut off.
So, if you are in need of a new "addiction" LOL, check out Scrapologie.